information
| | |
| --- | --- |
| Jan. 20, 2020 | Version 5.0.0 has been released. |
| Apr. 1, 2018 | Version 4.8.0 has been released. |
| May. 10, 2017 | Updates the speech recognition and synthesis engines. |
| Apr. 18, 2016 | Version 4.7.1 has been released. |
| Jul. 23, 2015 | Version 4.7 has been released. |
| Jul. 28, 2014 | Due to electrical equipment inspection, speech recognition and speech synthesis will be unavailable from Friday, August 1st thru Monday, August 4th. We apologize for any inconvenience. |
| Jun. 19, 2014 | Version 4.3 has been released. |
| Jun. 19, 2014 | English site is open. |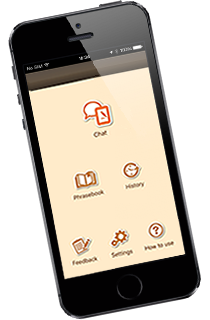 What is KoeTra…
Communication through writing is usual between those with normal hearing and those with hearing impairments if sign language cannot be commonly used. However, the hearing impaired may not get the information that they need because we often hesitate to communicate in writing that may take time or be burdensome.
"KoeTra" supports smooth communication by utilizing both speech recognition and speech synthesis technology.
Understanding "KoeTra" in 30 seconds
For those with time, the details about "KoeTra"